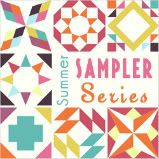 I need another project like I need another hole in my head, but here I am thinking about starting another one!
I've been wanting to do a sampler quilt for a while now and have been considering the Farmer's Wife Quilt Along, but quite honestly I find it a bit intimidating. That is a lot of small blocks with a lot of small piecing! The blocks in the Summer Sampler Series finish at 12 inches. That just seems much more doable to me. Check out their Flickr Group and you will see the appeal.
They are already halfway through the series so I would be playing catch up, but I think that's fine.
I have this stack of fabric just sitting on the self waiting to be used. I haven't been able to decide what to do with it, but this might just be it. We'll see...
I'm making good progress on my Rainbow Charm Pinwheels so maybe once I have all of them done...and sashed...and the entire top done...I will let myself start this. We'll see how that goes.